The Rushcliffe learning Alliance Pupil Parliament (RLAPP) has been established for our children through being part of the Rushcliffe Learning Alliance (RLA).
This is an exciting project which has been established to allow children in our schools to work together and experience democracy for themselves and understand the principals of how parliament works.
Two children from each school sit on the RLAPP. They represent the views of children in their own school at the RLAPP meetings. Each term the agenda is set by children on the RLAPP and shared in all of our schools. The RLAPP meetings are held at County Hall in the Council Chambers and the children get the opportunity to present their views to Local Councillors and make sure that the children of Rushcliffe have an opportunity to have their views heard on issues which are important to them. At each meeting it is established which child takes the role of 'speaker'.
The representatives from our school feedback and discuss the issues raised at the RLAPP meetings in more depth at our own School Council meetings. All children in our school get the opportunity, when relevant, to vote or express their opinions on things which are being discussed.
This year The RLAPP have chosen the following topic to focus on this year :
Please support the primary school children of Rushcliffe who recently voted to petition the Government to value trees for our planet's children and grandchildren.
The Rushcliffe Learning Alliance Pupil Parliament have democratically chosen this as their issue of the year which we would like to take to Number 10 Downing Street, but we need your support!
Please take 1 minute to click this link and sign the petition.
With thanks,
Rushcliffe Learning Alliance Pupil Parliament.
In May our 2 representatives below : Maxwell and Mohammed will be joining the other children and staff to visit the Houses Of Parliament - updates to follow.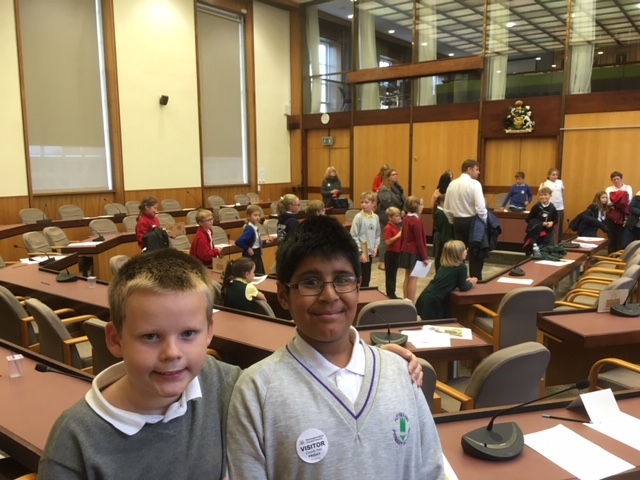 Maxwell and Mohammed our 2018-2019 RLAPP representatives
Please click below to see the minutes of meetings to see details of current topics being discussed.