NEW SONGS ADDED
HEYMANN KS2 SCHOOL CHOIR UPDATE !
Just because school is closed does not mean we can't continue to enjoy our singing . You know how much I love to sing and I know how much you all do too ! So to help you over these unusual times I have put some links to some websites below which will let you access free songs to enjoy at home .
I will also try to add some of the songs we have been learning in choir recently so you can keep practising. I really miss hearing all of your amazing voices and seeing the smiles on your faces when we join together to sing each week . I can't believe that our KS2 choir has almost 100 children in it now . Remember singing is a fun and relaxing activity - it is great for all of the family and makes you feel good . So get everyone involved and keep singing - I can't wait to see you all again and hear how well you have learnt our songs .
See you all soon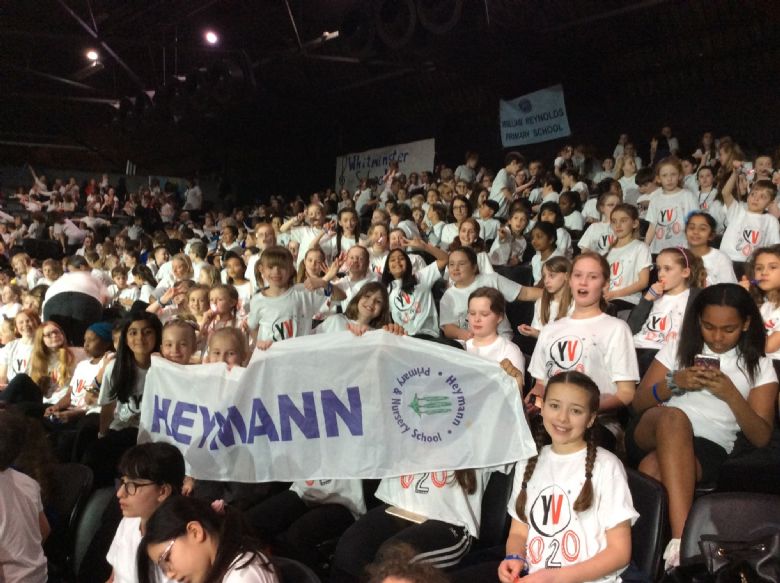 Ms Nash
Websites for you to keep singing :
We use Sing Up all the time in school - they have opened up a free area for home schooling with some great songs and activities for you to try .
Out of the ark is another great site which has made lots of its songs and music resources free during this time . have a look and enjoy.
I hope you are practising Choir !! Here's another to keep you going .......
I thought you would like one of our favourites to sing this week - enjoy choir and keep singing x
Time to get strong choir and all sing together loudly - showing we can beat this ! I can't wait to hear you sing this when we return .
Our Choir is on a Wednesday lunch time from 12.30--1.10pm and is open to all of KS2.
'SING-SING A SONG'
If you enjoy singing, why not come along to
choir practises on Wednesday lunchtimes. We enjoy singing a range of songs from classics, rounds and pop songs. Don't worry if you think you can't sing - as long as you enjoy yourself and have fun - come along !
We have lots of opportunities to perform throughout the year - Christmas fair, Summer Fair, Musical Soiree and even go on tour to sing for the community.
This year we are very excited to be singing at the Genting Arena in Birmingham as part of the Young Voices Choir and later in the year we hope to once again sing at the Albert Hall .
Choir is open to pupils in year 3,4,5,and 6 and takes place in 6P...we hope to see you there.
Ms Nash