Merry Christmas from Year 5 & 6 choir - enjoy!
Click here
YOUNG VOICES 2022
I can't believe that at last, after nearly two years we are back singing - how amazing does this sound ? Everyone in school has commented on how wonderful the sound of children singing and enjoying themselves lifts the spirits and makes everyone smile.
Although we are not back singing fully as a school yet, we have been able to start our Young Voices choir - which this year is aimed at Year 5 and 6 children. Those attending are practising hard both at home and school for the big event on January 26th at Birmingham.
Choir is held on Thursday lunchtimes for year 5 and 6 (alternate weeks currently to keep each year group separate). It is held in 6P classroom from 1.00 - 1.30.
We are hoping to start a Year 3 and 4 choir after half-term, which we will hold on Friday lunchtimes at 12.30.We will let you know more information soon.
See you all soon
Ms Nash
Websites for you to keep singing at home :
We use Sing Up all the time in school - they have opened up a free area for homeschooling with some great songs and activities for you to try.
Out of the ark is another great site which has made lots of its songs and music resources free during this time . Have a look and enjoy.
These are a couple of our favourite songs for you to practice at home .
Remember how much singing makes you smile - sing loud and sing proud Heymann !
Ms Nash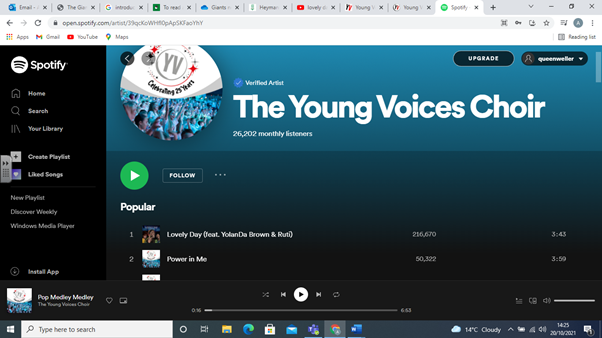 You can access all of this year's young voices songs through spotify.
You can register for Young Voices classmate which will give your parent an access code for you to use all of the resources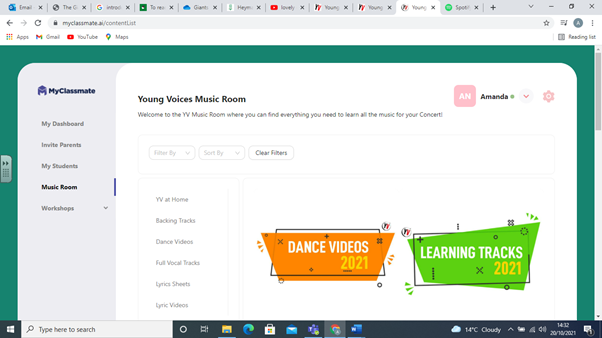 YEAR 4 CHOIR
After February half-term we are hoping to start our Year 4 choir. We would like you to practice these 2 songs so when we are back together and able to sing - we will be amazing. Please practice Wings by Little Mix and The Climb by Miley Cyrus. I've also left on one of our school favourites 'Power in me ' and 'Sing from your heart' for you to keep practising.
Have fun singing and I can't wait till we can all sing together.
Here are a few more favourites to keep you singing.
'SING-SING A SONG'
If you enjoy singing, why not come along to choir practises on Thursday / Friday lunchtimes. We enjoy singing a range of songs from classics, rounds and pop songs. Don't worry if you think you can't sing - as long as you enjoy yourself and have fun - come along !
We have lots of opportunities to perform throughout the year - Christmas fair, Summer Fair, Musical Soirée and even go on tour to sing for the community.
This year we are very excited to be singing in Birmingham as part of the Young Voices Choir (Y5&6) and later in the year we hope to once again sing at the Albert Hall (Y3&4)
Choir is open to pupils in year 3,4,5,and 6 and takes place in 6P...we hope to see you there.
Y5&6 : Thursday Lunchtimes (1.00-1.30 in 6P)
Y3&4 : Friday Lunchtimes (12.30-1.00 room to be arranged)
Ms Nash