On this page we aim to provide some information and activities to support your child's emotional health and wellbeing. There are some websites which offer support and advice and also some activities and we will also post activities including some self-awareness, self-esteem, relaxation and mindfulness.
If you are really concerned about mental health issues please contact school, or your GP. If you are concerned about a child's welfare you can call MASH (multi agency safeguarding hub) on 0300 500 80 80. If you require an urgent response outside of working hours (08:30-17:00), contact the Emergency Duty Team (EDT) on 0300 456 4546. In an emergency call 999.
Coronavirus
Whilst school is closed, every two weeks we hope to post some different activities to promote positive mental health. We will post a grid with some activities to practise every week and some new activities - see Well Being activities tab. Some of the websites below also have activities as well as advice.
Online resources to support positive mental health
There is lots of useful sites for supporting emotional health and well being online. Some of the services below are for parents / carers and some for children. Lots of the sites have information for both so it is really important you check what is on the site before letting your children have access. The sites often support a range of ages so whilst some of the support is very useful not all will be age appropriate.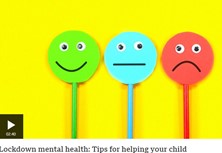 BBC BItesize TOP TIPS for Helping your child's mental Health
This is a really useful videos for tips.
https://www.bbc.co.uk/news/av/education-55620288