Miss Penfold, Miss Bradley and Mr Sills are really looking forward to teaching you all this year and we are looking forward to an exciting term ahead!
Our team also includes: Mrs Maqsood, Mr Parsons, Miss Plarkou and Miss Hassan.
Autumn Term
In Autumn Term, our topic is Rock On. We will primarily focus on the Stone Age and how people once lived. During our History lessons, we will explore how life has changed from the Stone Age, through to the Bronze Age and finally the Iron Age. This will cover topics such as housing, food, survival skills and tools. The children will then get the chance to create their own Stone Age bags to store all of their hunting tools! Our History topic will also link closely to our Science work based on 'Rocks' where we will compare and group different kinds of rocks and understand how fossils are formed.
In Maths, the children will focus on place value, addition and subtraction and multiplication and division throughout the Autumn Term. We will also have supplementary lessons based solely on times tables to support the children's understanding of the 3, 4 and 8x table. Throughout their independent work, they will work through activities that link to fluency, reasoning and problem-solving.
We have started a new approach to our writing using the Talk for Writing scheme. We have seen such a positive effect on children's vocabulary and quality of writing when trialling this last year. For the first half term, we will be focusing on adventure stories and we will move onto non-fiction texts into the second half term.
P.E will be every Monday and Wednesday where the children will participate in Fundamental Skills and a Stone Age themed dance. Please ensure that your children have their P,E kit in school for these days as they will be getting changed in school.
In Geography, we will be comparing Nottingham to Bagamoyo in Tanzania. Ms Noble travelled over to Bagamoyo a couple of years ago to our link school and so we are very lucky to have some first-hand experience and pictures to share so that we can make comparisons between the 2 places.
ICT will mainly cover word processing, where we will learn how to change font, colour, text size and many other word processing skills. We will also access touch typing websites to increase the children's competency at using computers. In R.E, we will focus on signs and symbols and light and dark. In music, we will be exploring African music and composing our own pieces with different drum rhythms. Furthermore, in SMSC, our topics are 'Being Me in my World' and 'Celebrating Difference', where we will be having lots of open discussions about what makes us the person that we are and how differences between us should be perceived as a positive thing.
Maths homework is given out every fortnight on a Wednesday, either through MyMaths or a worksheet. We have been practicing on Times Table Rockstars within class, so we would encourage this to be played at home as well. Spelling homework is given out every week which needs to be completed on SpellingShed. If you do not have a computer/tablet to access SpellingShed, then your child will be able to practise their spellings on paper instead. You can provide extra support for your child at home, by practicing their times tables (3, 4, 8) and looking at the Yr3/4 statutory spelling list.
Autumn Term 1
This term we are learning all about The Stone Age in History and the Local area in Geography. Below is our knowledge organiser so you can support your children's learning at home.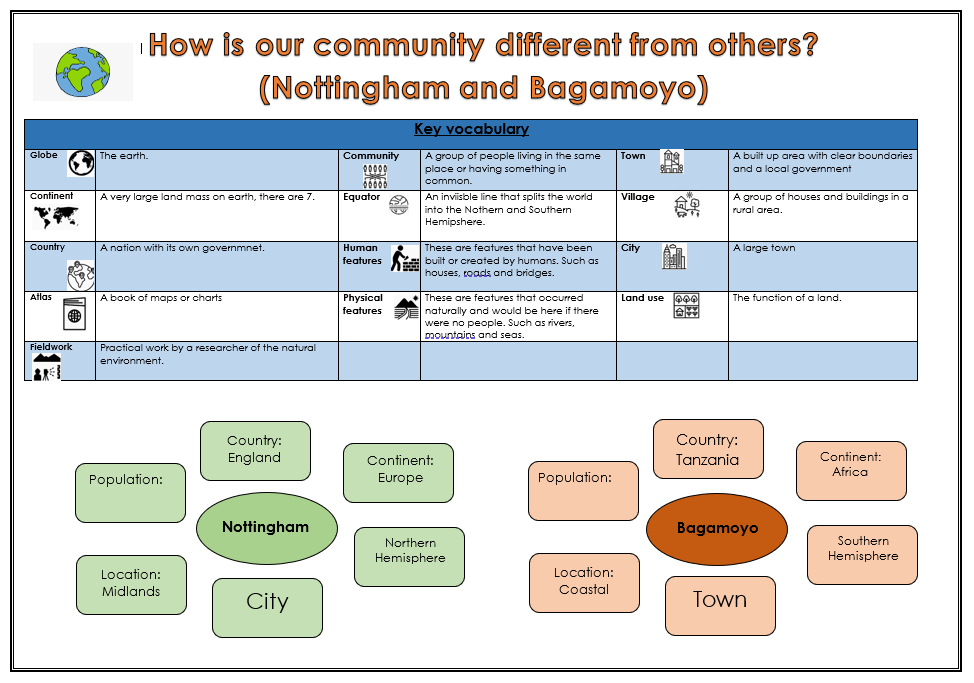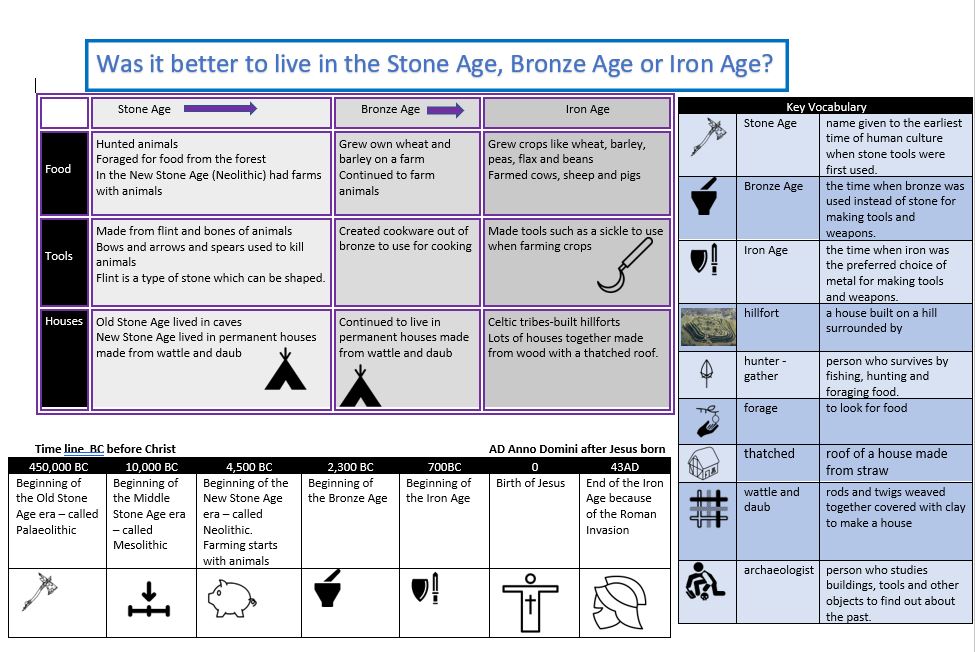 If you have any questions please email the year3-teachers@heymann.notts.sch.uk
Useful links to help with home learning:
General:
BBC Bitesize- https://www.bbc.co.uk/bitesize
Twinkl – https://www.twinkl.co.uk/
Top marks – Interactive games- maths & English – e.g. hit the button, coins, place value etc. https://www.topmarks.co.uk/
Primary resources - http://www.primaryresources.co.uk/ It's a site where teachers share powerpoints and activities to teach different subjects. Once you've chosen your subject and the specific area, you can then select the appropriate year group.
You tube- www.youtube.co.uk - don't underestimate this one! Horrible Histories: Rotton Romans and lots of other educational videos.
Crickweb – free interactive online resources and games http://www.crickweb.co.uk/
Maths:
My Maths- https://www.mymaths.co.uk/
Top marks – Interactive games- maths & English – e.g. hit the button, coins, place value etc. https://www.topmarks.co.uk/
TT Rockstars - https://ttrockstars.com/
ITP resources - https://mathsframe.co.uk/en/resources/category/586/ITPs - Interactive maths resources e.g. moveable clock, weighing scales, capacity etc. Choose your topic and then play the game to have a play with reading scales and learning maths interactively.
White rose - https://whiterosemaths.com/homelearning/year-3/
https://garyhall.org.uk/primary-maths-resources.php a range of resources available for every maths objective on the curriculum
English:
Pobble - www.pobble365.com - this website supports children's writing by displaying an image (which changes daily) and inviting children to undertake a range of creative writing activities inspired by the image.
Spelling shed - https://www.spellingshed.com/
Scholastic - https://shop.scholastic.co.uk/homelearning Home learning packs to support with comprehension and reading. You will need to register for an account though.
Letterjoin https://www.letterjoin.co.uk/
Reading:
Oxford owl- https://www.oxfordowl.co.uk/
Scholastic – https://educator-slz03.scholasticlearningzone.com/slz-portal/#/login3/GBRRF98
Sora- https://soraapp.com/welcome/login/201910 - borrow books like an online library – details how to log in sent out via email.
Audible stories- https://stories.audible.com
Book trust- https://www.booktrust.org.uk/books-and-reading/have-some-fun/storybooks-and-games/
World ebook - https://worldbook.kitaboo.com/reader/worldbook/index.html?usertoken=Mjk5MzQ6MTpJUjA5MjAxNjoyOmNsaWVudDE2OTc6MTY5NzoyMjE2Mjg4OjE6MTU4NDM4MDExMzA2Mjp1cw== (free books and audiobooks)
Topic/other:
Scintilla Spark https://scintilla.ai/login
BBC Homeschool History- https://www.bbc.co.uk/programmes/m000hmmf - history videos and discussions for the whole family to join in with
Bitish Museum - https://www.britishmuseum.org/learn/schools/ages-7-11 - Follow the link and it will take you to the schools page. Have a look down the page and find sessions and resources that you can download; Virtual tours available for some topics too.
Touchtyping https://www.bbc.co.uk/bitesize/articles/z3c6tfr
Rapid router coding - https://www.codeforlife.education/rapidrouter/
Light bot- computer coding - https://lightbot.com/flash.html
PE:
Joe wicks - https://www.youtube.com/user/thebodycoach1
Fitter future - https://app.fitterfuture.com/student/auth/login
Links
E Safety:
www.thinkuknow.co.uk/8_10/cybercafe/
My Maths:
Times Tables: