**Moving into Year 5 in September 2022? Our class transition books can be accessed at the bottom of this page**
Welcome to Year 5's Page!
The teachers in Year 5 are as follows:
5L - Miss Bussey (Mon-Wed and Friday) and Mrs Rowson (Thursday)
5P - Mr Arch
5T - Mr Benskin
We also are lucky to have some brilliant support staff working with us in Year 5. Mr Hill supports with maths and Ms Bielecka supports with English. Mrs Bonsai supports in each class in the mornings, apart from Thursdays. Mrs Hussain supports in each class every day.
Here is our introduction to everything year 5 video...
Summer Term 2 in Year 5
This half-term we are learning about what Nottingham was like when Wollaton Hall was built. Below is our knowledge organiser to support the learning and it is also available to download from the bottom of the page. If you can support your child learning this key knowledge that would be great and they will also have a copy in their homework books.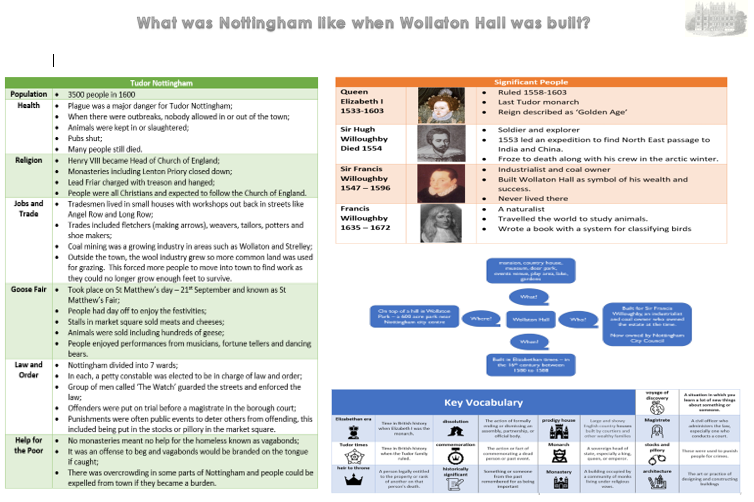 Get in contact with us!
Should you need to contact us about your child and their learning, please uses the year 5 email address year5-teachers@heymann.notts.sch.uk - please note that we will try to check these emails two or three times a week and respond when we are able to. If you need to contact school about a more urgent matter, please contact the office as usual.
PE
The children will have PE on a Tuesday and a Thursday afternoon. Please can children ensure their PE kit is in school every day.
Homework
Each week, children will be given a list of spellings to learn plus a task to complete with these words. They will also be expected to use Spelling Shed to practise these words. There will also be a weekly MyMaths task to complete online. Some weeks there will also be additional topic homework in order to enhance their learning in areas like art, history or geography.
Please support your child in completing homework and returning their homework book on time each week.
Homework will be set every Wednesday and should be completed and handed in by the following Tuesday.
Children should continue to use Times Tables Rock Stars regularly to keep their recall of times tables sharp. We will check their progress on this regularly and celebrate successes whenever we can.
Handwriting Practice
We are part of the Letter-Join handwriting scheme and any of our pupils wishing to practice their handwriting at home can login to the Letter-Join website on tablets as well as desktop and laptop computers. There are easy to use resources which will support the development of joined, neat handwriting. Please see the document below for access details.
Useful Websites
Maths
https://garyhall.org.uk/primary-maths-resources.php a range of resources available for every maths objective on the curriculum
https://www.mymaths.co.uk/ As well as the tasks we are setting you, don't forget there is a whole bank of games to play to practise your maths skills. Plus, you have the option to repeat previous homework tasks in order to improve on your score.
https://mathsframe.co.uk/ Interactive maths resources e.g. moveable clock, weighing scales, capacity etc. Choose your topic and then play the game to have a play with reading scales and learning maths interactively.
English
https://soraapp.com/welcome An online library for your child to enjoy. You should have been sent an email with information about creating your child's username and password. Please get in contact if you need help with accessing.
Scholastic Reading Pro An online resource for targeting and developing your child's reading comprehension skills. You should have been sent an email with information about creating your child's username and password. Please get in contact if you need help with accessing.
Spelling shed - https://www.spellingshed.com/ - Spellings will be set weekly for the children to practice. You could get the children to write their spellings in sentences to show understanding and practice spelling rules.
http://www.pobble365.com/ A picture a day with lots of support for producing a piece of super creative writing. If you don't like the picture for that day, go back and look at the archive of previous images.
General/Other
BBC – https://www.bbc.co.uk/bitesize and the normal BBC website - great for lots of things and video clips relating to their respective topics of Romans (Yr3).
You tube- www.youtube.co.uk - don't underestimate this one! Horrible Histories: Start watching episodes about the Ancient Greeks!
Top marks – Interactive games- maths & English – https://www.topmarks.co.uk/