Spring Term in Year 6
We shape you all had an amazing winter break and are ready for the next exciting term.
Congratulations to Miss Coombs Taylor who had a baby girl over the break - she is gorgeous and we hope you will all meet Nina soon. Our teachers for the remainder of Year 6 will be are Ms Nash & Mrs Fearley (6P), Miss Sheikh (6L) and Mrs Johnson (6T).Mrs Bielecka and Mrs Bonsai will work with us too in the mornings. Madame Cameron, Mrs Marriott and Mr Sawford will teach each class for a 4 week block on Wednesday mornings.
Here is our Parent Curriculum Video:
Our topics for the Spring term are both geography based. We will begin with looking at Volcanoes and Earthquakes. This exciting topic shows us how these natural disasters are formed and where they are located. We also look at why some people choose to live alongside these unpredictable phenomena.
Our Knowledge organiser for the first half-term is below. Please keep quizzing yourself on these key facts as we hope that everyone will know everything on this by the end of the topic.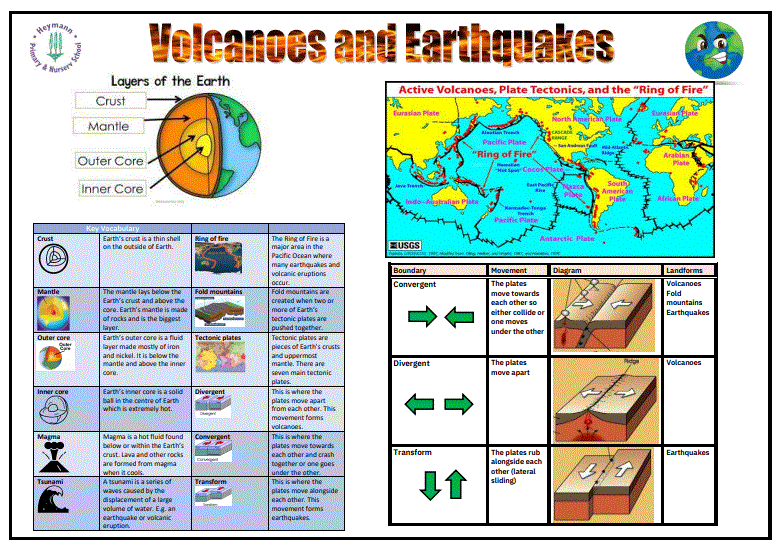 PE
We are currently having Yoga and Mindfulness lessons on a Tuesday afternoon which we are all finding so much fun and relaxing. We will also be developing our Handball sills on a Friday afternoon. Please come to school for this half-term only in PE kit on TUESDAYS AND FRIDAYS.
Homework
This will be set on Thursday and then handed in on Wednesday with a spelling test on Thursday. Each week there will be spellings and maths homework. The maths will be set on MyMaths on alternate weeks. The rest of your homework should be completed in your homework book. Science homework is set fortnightly. We will occasionally set homework linked to our topics but will allow for this by not setting other work at the same time.
Useful Websites
We highly recommend the website http://www.lovereading4kids.co.uk as it has a constantly updated recommended reads list, including synopsis and book extracts to see if you like it! There are age-appropriate book recommendations on the left-hand side.
MyMaths https://www.mymaths.co.uk/
Letterjoin https://www.letterjoin.co.uk/
Timestable Rockstars https://ttrockstars.com/login
Touchtyping https://www.bbc.co.uk/bitesize/articles/z3c6tfr
Spelling Shed https://play.edshed.com/login
Scintilla Spark https://scintilla.ai/login
Fun arts & music https://www.youtube.com/channel/UCYjtS-y4336fRG2E0zLDMYg/videos
BBC bitesize https://www.bbc.co.uk/bitesize/levels/zbr9wmn
Oak Academy: https://classroom.thenational.academy/subjects-by-year/year-6