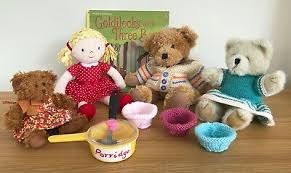 👱‍♀️🐻🥣💺🛌🏡🌲👱‍♀️🐻🥣💺🛌🏡🌲👱‍♀️🐻🥣💺🛌🏡🌲
Happy Monday Guys!
Big thanks again for your commitment to our zoom sessions and accessing the home learning materials. From getting your groove on at the dough disco to joining in with an active version of The Three Little Pigs… We think you are all amazing!

For our final week before half term, we have another traditional tale being 'Goldilocks and the Three Bears'… We hope you can get really involved in the story and be able to re-call the key parts. You will be making delicious porridge, ordering things by size, describing different textures and lots, lots more.
As always, email us what you get up to 😊 we love seeing your photographs.
👱‍♀️🐻🥣💺🛌🏡🌲👱‍♀️🐻🥣💺🛌🏡🌲👱‍♀️🐻🥣💺🛌🏡🌲
Follow this link to an animated version of the 'When Goldilocks went to the house of the bears' song.
https://www.bbc.co.uk/teach/school-radio/nursery-rhymes-when-goldilocks-went-to-the-house-of-the-bears/zbkrf4j